Los archivos de PDF son muy fáciles de abrir y de leer, sin embargo no son tan sencillos de editar o al menos los programas para realizar esa tarea no se encuentran tan extendidos. La solución entonces a la hora de realizar alguna edición es convertir los archivos a formatos mucho más manejables, como por ejemplo el HTML. Una aplicación que precisamente permitirá hacer lo anterior es Free PDF to HTML Converter, programa que justamente enseñamos a continuación.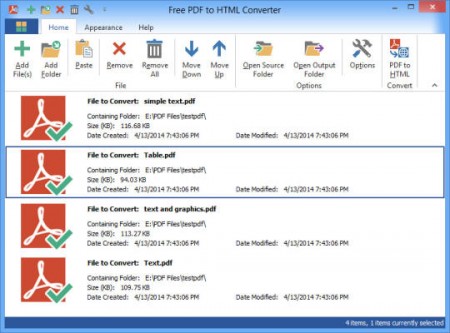 Free PDF to HTML Converter, es un programa gratuito para Windows que hace las veces de utilidad ofimática, ya que permite convertir archivos de PDF a HTML sin perder el formato, de modo que los usuarios no perderán tiempo realizando correcciones de estilo.
Un punto a destacar del programa es que permite usar los archivos en HTML como artículos de blogs, de modo que se podrán subir directamente a cualquier página de WordPress o Blogger.
Enlace: Free PDF to HTML Converter