A la hora de bajar vídeos de Youtube muchos usuarios quedan perplejos al descubrir que han descargado archivos en un formato desconocido como el FLV. Esta extensión no destaca por ser compatible con muchos reproductores externos e incluso con programas mismos de Windows, así que lo mejor para evitar problemas es convertir el formato del vídeo y hacerlo mucho más atractivo con una aplicación funcional como SDR Free Youtbe to MP4 Converter.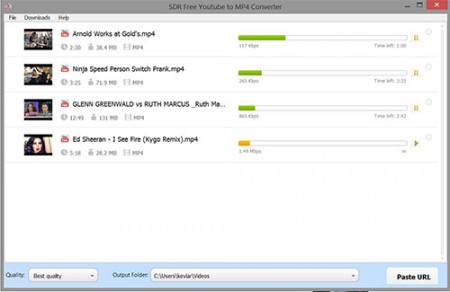 SDR Free Youtbe to MP4 Converter, es un programa gratuito para Windows con el que será posible convertir cualquier vídeo descargado de la web de Google a MP4.
La aplicación, además de permitir cambiar la extensión de una manera sencilla y funcional, es capaz de bajar vídeos de la web, así que cualquier usuario podrá copiar y pegar el enlace en el programa e iniciar la descarga automática del archivo.
Enlace: SDR Free Youtbe to MP4 Converter