Escuchar música por Internet es una tarea que ha sido entregada a Youtube por muchos usuarios quienes no les interesa demasiado la calidad del audio que están disfrutando, en esta entrada no queremos criticar esos gustos, más bien queremos enseñar una aplicación que les hará la vida más fácil cuando no tienen conexión a Internet; Listen To YouTube.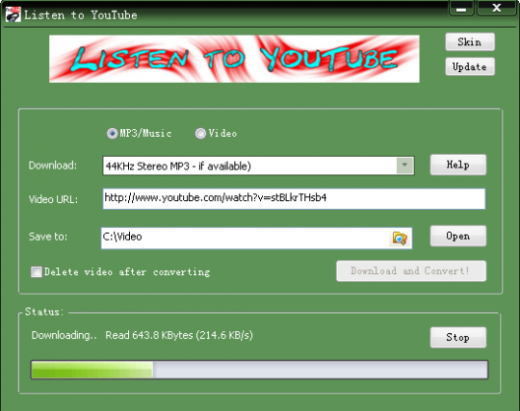 Listen To YouTube, es un programa gratuito para Windows que te permitirá descargar vídeos de Youtube en el formato que más te interese.
Evidentemente el más popular es el MP3, ya que en esta clase de extensión sólo se baja el audio y las pistas de los vídeos, eliminando completamente los fotogramas, lo cual significa un peso inferior al archivo original.
La aplicación es muy sencilla de utilizar; simplemente seleccionar el formato de salida e ingresa la dirección o URL del vídeo en cuestión. Automáticamente el programa iniciará la descarga.
Enlace: Listen To YouTube