Los documentos en formato PDF se han convertido en una de las extensiones de archivos más utilizadas cuando se habla de documentos ofimáticos. Infortunadamente este formato tiene un pequeño problema que se resume en la poca cantidad de archivos disponibles para hacer ediciones de texto. Una solución a lo anterior es cambiar la extensión y convertir el archivo PDF a algo más tradicional como Docs, XML o RTF. Un programa que te ayudará con lo anterior es PDF To Word Converter Pro.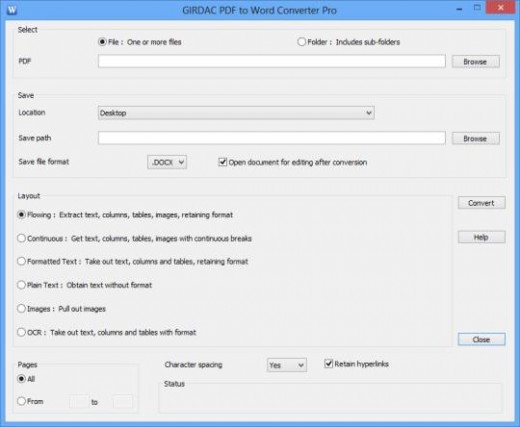 PDF To Word Converter Pro, es una aplicación gratuita para Windows que te ayudará a convertir archivos PDF a Doc en unos cuantos clics, lo cual significará que podrás editar la información desde suites tan populares como Office de Microsoft.
El programa no es muy diferente a otros de su estilo. Básicamente deberás cargar el archivo original en PDF y seleccionar el formato de salida, además de unas configuraciones simples. Automáticamente el archivo será convertido de PDF a Doc u otro formato.
Enlace: PDF To Word Converter Pro