Existe una gran cantidad de opciones cuando se es necesario editar archivos de MP3. Infortunadamente muchos de esos programas son de pago y además muy difíciles de utilizar, ya que cuentan con opciones para profesionales, las cuales no son ni siquiera tocadas por los novatos. Aún así existen ciertas aplicaciones para realizar tareas simples que funcionan muy bien y en esta entrada os traemos una de ellas; Free MP3 Cutter and Editor.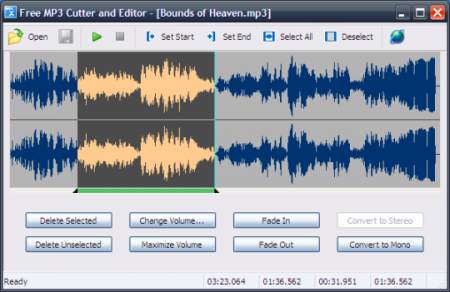 Free MP3 Cutter and Editor, es un programa gratuito para Windows  con el que cualquier usuario podrá editar fácilmente sus archivos de MP3. Es de destacar que el software está ideado para ser usado en tareas muy simples.
En primera medida, se podrá cortar archivos, así como cambiar la longitud total del mismo. Añadir y mezclar pistas de audio, y hasta aumentar el volumen en partes específicas de los mismos.
El programa es muy simple pero bastante funcional.
Enlace: Free MP3 Cutter and Editor