Hay una gran cantidad de móviles que requieren software especial para poder ser sincronizados correctamente con el ordenador. Esto sucede en móviles que usan sistemas operativos privativos como iOS y, a decir verdad, tener que conectar e iniciar la aplicación (iTunes en el caso de los móviles de Apple) es un verdadero dolor de cabeza, no sólo porque toma tiempo, sino porque ese tipo de aplicaciones consume una cierta cantidad de recursos del sistema y, en mi ordenador, éstas siempre se bloquean. La solución para cuando se desean enviar archivos de poco peso es hacer uso de medios inalámbricos como por ejemplo el Bluetooth y ello podrá ser hecho por medio de programas como Files To Phones.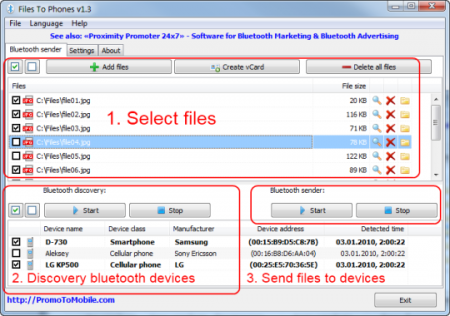 Files To Phones, es una aplicación para Windows con la que es posible enviar archivos desde el ordenador al móvil haciendo uso del Bluetooth.
Obviamente para realizar lo anterior será necesario que el ordenador cuente con tecnología Bluetooth.
Enlace: Files To Phones